garters
Our wedding garters are carefully hand-sewn into beautiful and unique wedding accessories to become a truly treasured bridal piece, a beautiful reminder of your wedding day.  We ask for your leg measurement ensuring your bridal garter is comfortable to wear throughout your wedding day. A garter is a tradition that is enjoyed by Bride's for many generations.
Our delicate laces, silky satins, french satin ribbons, hand picked sparkling rhinestone and crystal embellishments we use to make each and every garter are of the highest quality.  We also offer you the most exceptional Customer Service.
Our wedding garters will fit you perfectly  as we hand sew each garter especially for you.  A wedding garter is a very special wedding gift for a Bride, perfect for her wedding day.  Many Mothers of the Bride and close friends choose a garter as a special  Bridal gift for the Bride on her Wedding Day.
Our Keepsake Gift Box
Nestled into our beautiful gift box with a white satin keepsake bag inside, your precious garter arrives packaged in pink. Our Wedding Garters make the perfect Wedding Gift for a Bride.
Our Garters are often purchased by Mothers of the Bride, close relatives and friends to give to the Bride for her Wedding Day and make a special Wedding Gift for Brides that will be treasured forever.
Wedding Garters Australia
Brides looking for something special, great customer service and a quick garter delivery are loving Garters & Co.
wedding shoes
When it's time to take off your high heels, our wedding flip flops are simply blissful.
Designed here in australia specifically for brides, we know how long your wedding day will be.  You deserve to slip your feet into something comfortable, particularly for the Wedding Reception.  Our bridal flip flops are 5cm high and are decorated with an oversized bridal bow and then embellished with your favourite pearl or sparkling rhinestone design.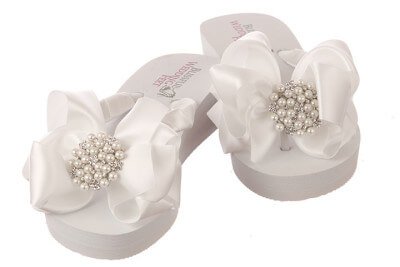 Your wedding heels looked amazing for your wedding ceremony - but you deserve to slip out of your wedding shoes and into our comfy bridal flip flops for your photography session and definitely for your wedding reception!  Our wedding flip flops are perfect beach wedding shoes, outdoor wedding shoes, winery wedding shoes and beach photography shoes.
bridesmaids shoes
Don't forget your bridesmaids feet. Bridesmaids love our wedding flip flops.  We make them up into colours to match their bridesmaids dresses.
We know that your bridesmaids will be wearing high heels too and they will love slipping out of their heels and into our wedding flip flops. If you are planning a beach wedding or an outdoor wedding, walking will be so much easier and comfortable wearing our wedding flip flops rather than high heels.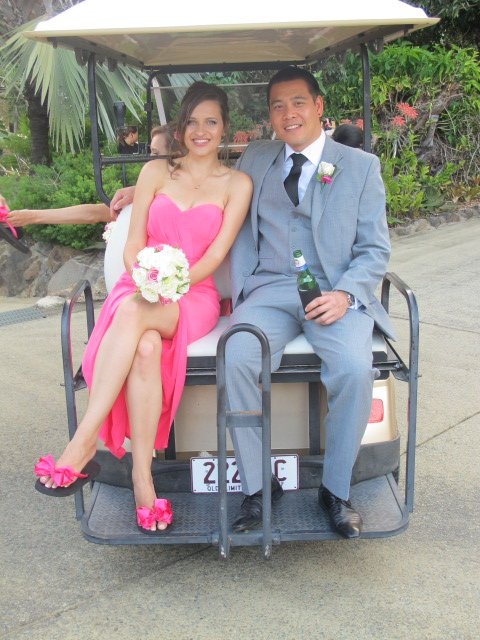 A beautiful idea for your Bridesmaids gifts
customer review