Princess Tiara Bridal Headpiece
A Tiara that is fit for a Princess
Imagine your beautiful Bridal up-do hairstyle with a stunningly beautiful Tiara nestled into it. Complete a perfect look for your Wedding Day!  A Tiara looks perfect, whether you are planning a formal, outdoor or a bohemian Style Wedding look. Our gorgeous sparkling Tiara simply works.  There are so many gorgeous hairstyles that work perfectly with a Tiara.  We absolutely love our Princess Tiara Bridal Headpiece. It is such a precious and timeless Wedding design.
Princess Tiara Bridal Headpiece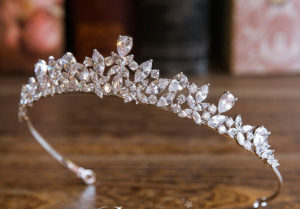 Our Wedding Tiara is a stunning Wedding Accessory.  Imagine it sitting delicately in your hair as it nestles into your perfect Bridal Hairstyle. Tiaras are a very versatile Wedding Headpiece. They instantly add a formal and elegant touch to your Wedding Day.  Our beautiful Tiaras have been carefully handmade using the most dazzling, clear water-drop shaped Cubic Zircon Crystals.  The Tiaras' stones sparkle so much and will be mistaken for real diamonds!  It is extremely hard to tell the difference.
A Tiara is an Heirloom hairpiece that looks simply stunning in Bridal Hair.  It suits an up-do hairstyle or sits well on top of long hair too.
Our Princess Tiara, handmade with the most gorgeous Cubic Zircon Crystals.  Handmade from AAA+ Grade Cubic Zircon Crystals.