Princess Tiara
A Tiara that is fit for a Princess
Imagine your beautiful Bridal Up-do hairstyle with a stunningly beautiful Tiara nestled into it. Complete that perfect look for your Wedding Day!  Whether you are planning a formal, outdoor or a bohemian Style Wedding, our gorgeous, sparkling Tiara works.  There are so many gorgeous hairstyles that work perfectly with a Tiara.  We absolutely love our Princess Tiara, a really precious and timeless design.
Princess Tiara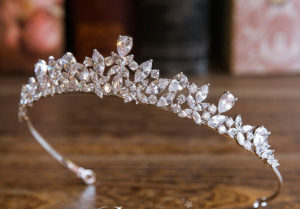 Our Princess Tiara is a truly stunning Wedding Accessory.  Imagine it sitting delicately in your hair, nestled carefully into your perfect Bridal Hairstyle. Tiaras are very versatile. They instantly add a formal and elegant statement to your Wedding Day.  Our beautiful Tiaras have been carefully handmade with the most amazingly clear water drop shaped Cubic Zircon Crystals.  They sparkle, shine and will definitely be mistaken for real diamonds!  It is extremely hard to tell the difference.
A Tiara is an Heirloom piece that looks simply stunning in Bridal Hair that is styled up or gently on top of long hair too.
Our Princess Tiara, handmade with the most gorgeous Cubic Zircon Crystals.  Handmade from AAA+ Grade Cubic Zircon Crystals.