Jessica Silk White Wedding Garter
Our Jessica Silk White Wedding Garter is made from the softest, feminine lace – off white Chantilly Eyelash Lace.  A silky French Satin Blue Ribbon is tousled into delicate blue loops with a central cluster of lustrous off-white Swarovski Pearls.  Our delicate Chantilly Eyelash Lace Wedding Garter is perfect for the Tradition of wearing 'something blue', so important for today's Bride to ensure good luck on her Wedding Day!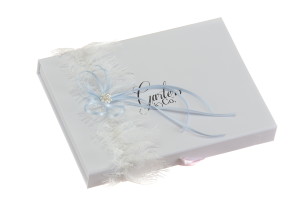 Our Jessica Wedding Garter is our absolute best selling Bridal Garter.  Delicate, soft and beautiful it makes the perfect gift for a Bride for her Wedding Day.  I believe a gorgeous garter is an essential part of a Brides' Wedding Lingerie for her Wedding Day.
Handmade specially for your Wedding Day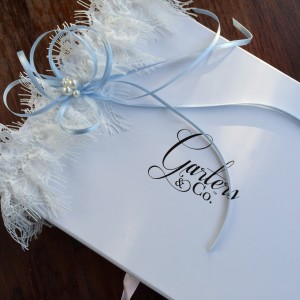 We only use the highest quality materials and our beautiful Wedding Garters are all individually handmade in Armadale, Melbourne Australia.  We ship to any address and have Express Post Available for Urgent Orders.
Check out our happy customers Reviews for our Jessica Silk White Wedding Garter  Reviews
Jessica Silk White Wedding Garter
Contact us for further information: christine@gartersandco.com.au    0418 904 776